Criminal Defense Lawyer In Abilene Texas
We have an extensive practice covering everything in criminal law services from vehicle and traffic infractions through major felonies.
If you are in need of a criminal defense, DWI or drug lawyer, then reach out to the law office of Lynn Ingalsbe of Abilene, TX.
This includes, but is not limited to, speeding and other motor vehicle infractions, driving while intoxicated (DUI, DWI and impaired driving), aggravated unlicensed operation, petit larceny, assault as well as family violence, burglary, robbery, drug lawyer cases both minor and major, as well as homicide cases.
The firm's criminal lawyer practice includes the local criminal courts, city court, county court, Supreme Court, and the appellate courts, as well as all levels of the federal courts.
The legal system affects nearly every aspect of our society, from buying a home to crossing the street. Lawyers form the backbone of this system, linking it to society in numerous ways. They hold positions of great responsibility and are obligated to adhere to a strict code of ethics.
Lawyers, also called attorneys, act as both advocates and advisors in our society. As advocates, they represent one of the parties in criminal and civil trials by presenting evidence and arguing in court to support their clients.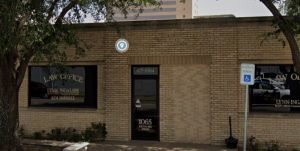 Professional Description:
Lynn Ingalsbe is a 1967 graduate of Baylor University holding the degree of Jurist Doctor from Baylor Law School. He has served as Judge of the Taylor County Court at Law where he presided over hundreds of criminal cases with integrity and was respected by both prosecutors and defense attorneys. He has also served Taylor County and Abilene, TX as Criminal District Attorney prosecuting misdemeanor and felony criminal cases.
---
More About Lynn Ingalsbe
Lynn now has nearly 50 years of experience and is a board certified criminal defense specialist. Certified by Texas Board of Legal Specialization. Lynn has gone the extra step in guaranteeing that his clients receive the greatest representation possible in the Texas Legal System. Not all attorneys are certified in this and Lynn is one of the few attorneys in this area with this certification. This brings great knowledge and experience to the negotiation of his cases.
The Ingalsbe Law Firm is located at the corner of South 3rd and Sycamore Streets. Street address is 1065 South 3rd, Abilene, TX.
Lynn Ingalsbe has successfully represented many perpetrators which have resulted in dismissals and/or reduced sentences or even probation without conviction. Lynn tells it does not pull any punches with his clients. He commands and receives their utmost respect and his clients are willing to work with him. Because of Lynn's experience on both sides of the courtroom, as well as being a past judge, he can skillfully speak with great authority in all cases. He has the respect of the Judges and his peers as well as all administrators in the legal system.
Lynn treats his clients with dignity and respect, enforcing strict compliance on their part. Lynn seeks justice for the system as well as mercy for his clients. Mr. Ingalsbe has a proven track record and has shown his ability to handle a variety of criminal cases such as: felonies, misdemeanors, DUI/DWIs, drug charges, firearm charges, juvenile charges, property crimes, etc.
Come by or call us at (325) 677-8384 to schedule your appointment and you will believe why our clients so highly recommend him.
Serving Abilene And Nearby Towns
We are located at 1065 S 3rd St, Abilene, TX 79602 (Phone: (325) 677-8384). In addition to those needing legal counsel in Abilene we also serve many of the nearby towns including:
Albany, Anson, Aspermont, Baird, Ballinger, Benjamin, Breckenridge, Blackwell, Brownwood, Buffalo Gap, Clyde, Coleman, Eastland, Graham, Hamlin, Haskell, Hawley, Lueders, Merkel, Roby, Snyder, Stamford, Sweetwater, Tuscola, Tye